Revitalize Your Workspace
Unlock Workplace Well-Being with Our Premium Services
The ultimate chair massage service is a therapeutic experience that is designed to promote relaxation, reduce stress levels, improve focus and improve overall wellness as well as increase work productivity.
We focus our chair massage style on addressing work posture including neck, shoulders, arm and hand muscles. To refresh your hardworking hands, we use a phenomenal palm & hand stretching.
There are two breathing aromatherapy options: lavender for relaxation and eucalyptus for uplifting effects.

Each chair massage session is offered in 15min/20min/30min/40min per client.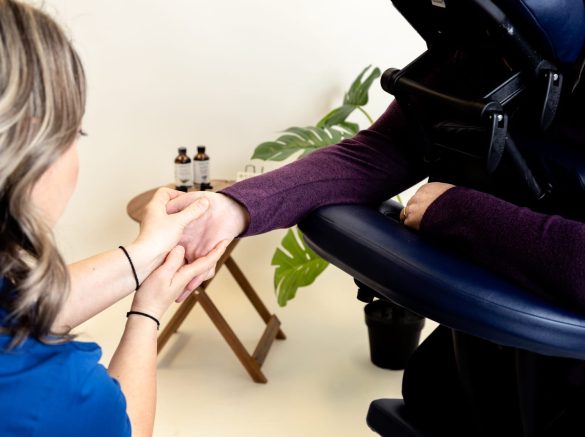 ON-SITE & REMOTE WELLNESS PROGRAM
With W.I.S.E., workplace wellness knows no bounds—our tailored programs are designed to reach you whether you're in the office or working remotely. Our on-site corporate chair massages deliver immediate stress relief and muscle relaxation, transforming your office into a sanctuary of well-being. For remote teams, our assisted desk stretches offer a virtual respite, fostering better focus and reducing work-related tension. Both avenues lead to elevated productivity, improved morale, and a healthier, more balanced work environment.
ON-SITE CORPORATE CHAIR MASSAGE
Revitalize your workday with W.I.S.E.'s on-site corporate chair massages, a transformative wellness solution designed to fit seamlessly into your busy schedule. Our certified therapists target key stress points, offering immediate relief from muscle tension and mental fatigue. The benefits extend beyond the massage chair—employees experience a boost in focus, creativity, and productivity, contributing to a more harmonious and efficient work environment. It's not just a massage; it's an investment in the well-being of your team and the success of your business.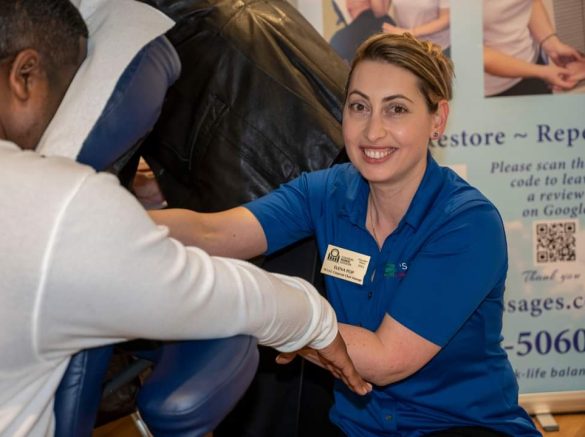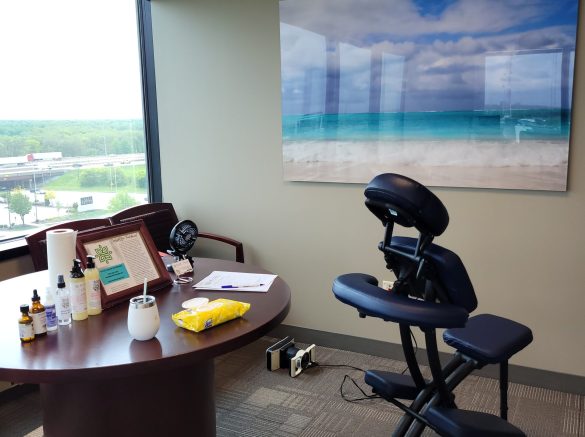 ON-SITE EXPRESS RELAXATION​
Discover the transformative power of W.I.S.E.'s on-site express relaxation, an oasis of calm designed to fit effortlessly into your workday. Our streamlined sessions offer an immediate reprieve from stress and tension, targeting key areas that commonly hold the burdens of a busy work life. The benefits extend beyond individual well-being—our express relaxation service contributes to a more harmonious and focused work environment, elevating team morale and boosting overall productivity. Experience the convenience and impact of swift relaxation, and unlock a new level of workplace wellness.
REMOTELY ASSISTED DESK STRETCHES​
Boost the well-being of your remote team with W.I.S.E.'s Remotely Assisted Desk Stretches. This innovative service is designed to fit seamlessly into the virtual work environment, providing real-time guided stretch sessions that can be accessed from anywhere. The benefits are immediate and far-reaching: reduced muscle tension, improved posture, and increased mental clarity. As a result, team members feel more engaged, less stressed, and ready to tackle their tasks with renewed focus and energy, elevating the overall productivity and harmony of your remote workforce.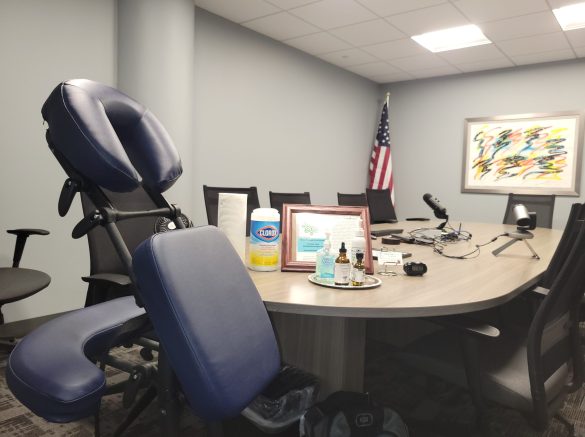 Our trained therapists are available to rejuvenate your team as follows: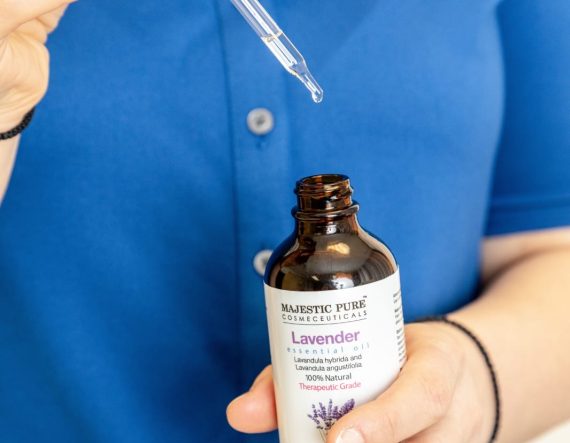 Boost Productivity & Morale: Corporate Chair Massage by W
.

I

.

S

.

E

.
Bringing Wellness to Your Workplace
At W.I.S.E. Wellness, we're proud to offer our transformative corporate chair massages and wellness programs to a diverse range of locations. From bustling business districts to serene suburban offices, we've got you covered. Here are the areas we are thrilled to serve:
Glenview
Deerfield
Arlington Heights
Kenilworth
Mount Prospect
Niles
Northbrook
Northfield
Oak Brook
Oak Park
Park Ridge
Rosemont
Schaumburg
Winnetka
Wilmette
Highland Park
We're eager to hear from you! Whether you have questions about our services, want to discuss a customized wellness package, or are ready to schedule a session, we're here to assist you every step of the way.